Last month I went into Sally's Beauty Supply and I noticed this foundation. A 8-in-1 foundation sounded to good to be true. I did not buy it because I had just bought the Revlon Nearly Naked foundation and powder. After I renewed my Sallys card in february I received a $5.00 off coupon and a 15% off coupon. Yesterday I made my trip back to Sallys to buy my haircolor and saw that the foundation was on sale for $7.99. I decided to buy it. I was not sure what color to get so I thought that if the color I chose was too dark I could always use a lighter powder. The color I chose was tan deep. In the Revlon Nearly Naked my color was True Beige.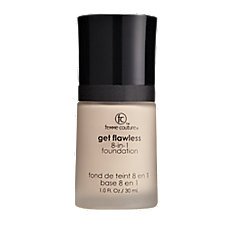 Femme Couture Get Flawless 8-in-1 Foundation delivers eight great skin benefits in one easy step. The Get Flawless 8-in-1 Foundation acts as a moisturizer, primer, foundation, concealer, powder, and color corrector while helping to smooth lines. The formula is also 97% oil free.
Me with no makeup
I am a strong believer of applying moisturizer as soon as I get out of the shower and in the mornings after washing my face. Since this foundation claims to moisturize, I only applied it to the right side of my face.
1.0 fl oz
comes in 8 different shades
comes with a pump
One full pump did one side of my face
I applied this with my fingers. It felt dry; there was no wetness to it. I did not have moisturizer on this side of my face.
After applying it I really liked how my face looked. It looked as if I had just applied powder to it.
This is the side I applied moisturizer to. Applying and blending the foundation felt better on this side.
I applied MAC Mineralize Finishing powder to the right side of my face, but honestly I don't think I need it. My face already has a nice finish with just using the Femme Couture 8-in-1 Foundation. Again, i bought this at Sally's Beauty Supply for $7.99. I believe the regular price is $10.99. Also you do not have to be a beautician to buy a Sally discount card. The price for the card is only $5.00 and you get it back in a coupon form to use in your next purchase. The card is good for one whole year or 12 full month. Totally worth it.